The Artist
Debra Harbour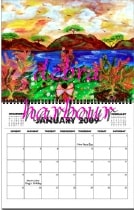 Come visit my store on CafePress!
Clothes and Gifts featuring the artwork of Debra Harbour

"I hope everyone enjoyed my website!" All original artwork shown will be sold as reproductions on this website. Watermarks will not appear on artwork.
Debra can make prints from her originals on canvas, glossy paper, matte paper, or poster paper. Prints can also be embellished to resemble original artwork as acurately as possible for an additional fee. Prices vary according to size, complexity of subject matter "details" and media used.

If you would like commissioned art work, you can e-mail or call Debra with your ideas of what you would like. She will then translate your idea into her artistic interpretation.

You may now order reproductions right on this website using PayPal.
Debra Harbour

Phone Number (805) 984-2841

E-mail Debra Harbour

Debra Harbour and her loving Husband Gary
An Example of a commissioned bookcover at Buttafly Jonez Co.

Sunday Morning
by Kaharra Harbour and Rev. Curtis Anderson

Pslams of a Ghetto Child
By Curtis Anderson

Ever Seen a Buttafly with Nubian Locs?

Bornography by I.C.O.N.
Artwork by Debra Harbour